Kiebitzhörn 36
22885 Barsbüttel
Phone: +49 (0) 40 – 670 00 00
E-Mail: info@aps-prosch.de
Web: www.aps-prosch.de
Veronika Repp
 
Shipping
veronikarepp@aps-prosch.de
Bernd Mangelsdorf
 
Warehouse / shipping
berndmangelsdorf@aps-prosch.de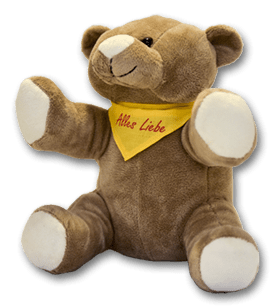 Comforter bear "Tommy" on rescue mission for children
We join in!
Tears, fear and panic – when children have an accident, it is often not easy for the rescue services to help them. In order to be able to provide help quickly, many of them now rely on Tommy the comforter bear – as is now the case with the Stormarn gGmbH rescue service. We think: This is a good thing!
That is why we support the project
Children and parents are often under stress and shock when accidents happen. A stuffed animal can then help the little ones as a soul comforter. This is how the idea for the comforter bear came about. Tommy is CE tested, complies with the EN standard for toys suitable for children and is, of course, individually packed in a polybag.The plush bear comforts and helps the children to build up trust with the rescue service staff and doctors. Tommy accompanies them through treatments, and they can use him to show where they are in pain.
With the help of many local companies, Tommy the comforter bear is now in use by the rescue services in Stormarn. A commitment that we are very happy to support.
Would you like to learn more about the project? Here you can find more information: www.verlagsgruppe-kim.de
Picture credits: Fig. Trösterbärchen @ Verlagsgruppe KIM